Study shows Floridians need to earn $19.47 per hour to rent a 2-bedroom apartment
Study shows Floridians need to earn $19.47 per hour to rent a 2-bedroom apartment
According to the Pew Research Center, 30 percent of America's workforce earns a near-minimum-wage salary -- that's almost 21 million people. A study by the National Low Income Housing Coalition examined wages and determined how much an American worked needs to earn per hour to rent a two-bedroom apartment and it found that in no state can a person earning minimum wage afford such an apartment at market rent.
With housing prices on the rise and wages staying near stagnant, affordable housing is a serious struggle for members of our region. Rent was not considered affordable in the Gulf Coast region in 2009-13, consuming 34 percent of renters' income, greater than the national figure of 33 percent but less than the statewide figure of 37 percent. For more information about housing affordablility for renters in our region, visit GulfCoastIndicators.org.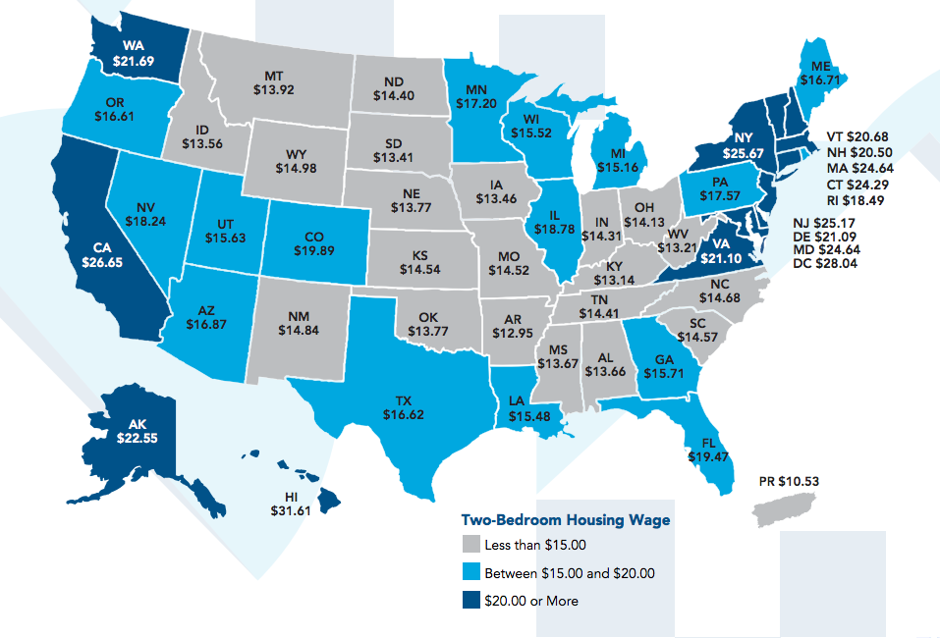 The map and article, Mapping the Hourly Wage Needed to Rent a 2-Bedroom Apartment in Every U.S. State, was published by The Atlantic's City Lab on May 27, 2015.